Foundation Repair in Logan, UT
Oh No, My Foundation Is Sinking!
You've done it, you've finally purchased the house of your dreams. The scrimping, the saving, and all the hard work has paid off. Here you sit, with your loved ones, inside your home. However, as the years have gone by, things haven't been as great as expected. The front door is becoming harder and harder to open. You notice the crack in the garage is expanding, and now, the windows stick.
You may need to have your foundation lifted.
What is Foundation Lifting and Piering?
Foundation lifting is a process that is used to save sinking foundations. There are detrimental effects that can happen if one's foundation is not repaired. Some of the issues include water seeping in through cracks to walls bowing or crumbling.
Piering is the technique of driving steel pipe pilings to remedy failing building foundations and to correct foundation settlement.
Here Are 6 Ways to Tell if Your Foundation Needs Lifting.
Have you heard of the infamous mudslides of Los Angeles? People built their homes up in the hills above LA to escape the smog, and unfortunately, the steep slope line wasn't taken into consideration as the homes were built.
As a result, countless properties and homes have been lost.
While this is an extreme example, extra considerations must be taken when building a house on a hill. Fortunately, if this is the case for you, foundational lifting will solve your problem.
At the base of your foundation is your footing. When they break due to insufficient support, you get the settlement. Settlement may take place over the course of several years, and the long-term effects can leave you scrambling to save your home and investment.
To check for this damage, look for cracks up your foundation wall.
The best and easiest way for you to spot foundation settlement is to look at your mortar lines. When bricks are laid, they are done with a level, to ensure the blocks are very straight.
This is fairly easy to inspect, you can visually determine if there is unevenness or use a laser to review the line.
Cracks inside and outside your home can be clear signs of foundation shifting. Inside the home, you may see cracks in the wood paneling, drywall, or plaster. Keep an eye out for any cracks that appear in your concrete slab or basement floor. On the exterior of your home, you may see stair-step or long horizontal cracks in the bricks.
05. Sticky Doors and Windows
While sticking doors or windows could be a sign of moisture issues, they could also signify foundation problems. It is important to keep them on the radar as you inspect your home. Place a four-foot level on the frame of your door or window to determine if the frame has shifted. Also, be aware of the season. Do your doors and windows only stick in the spring, or when there is stormy weather? If this is the case then the problem may be moisture-related.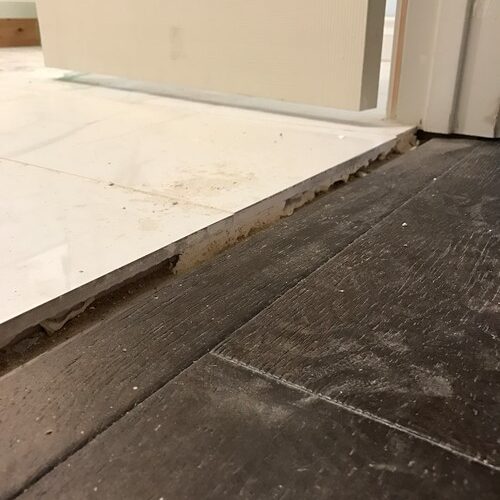 The upper floors of your home are made out of wood, and concrete is used for the basement. If the basement floor is not level, it is usually caused by foundation settlement or heaves. You will definitely want to have a professional check it out quickly because these problems only get worse over time.
If the wood floors are uneven, it could be foundation settlement or sagging floor joints, which are especially common in homes with dirt crawl spaces. Again have a professional come inspect as soon as possible, to quickly minimize future damage.
Now that you have discovered whether you need to have your foundation lifted, it's time to pick the best option. We at Poly-Lift Piering have partnered with Magnum Piering, the best lifting supply company in the industry. What makes them so special is they have a team of engineers behind them, ensuring you get the best product for your solution. They are ICC-ES proven and ISO-9001 certified. We provide two options for you, helical piling and push piering. Reach out to us today for your free estimate and we will help in determining which option is best.
The Options for Foundation Lifting
Helical Piles vs Push Piers
A push pier is a deep foundation pier that is hydraulically driven into the ground while monitoring pressure. The pressure can be converted to determine how much load each pier can hold. The installation process essentially "load tests" each pier by placing the pressure directly to the top. When the pier is completed the load is transferred directly down the shaft to the base of the pier creating an "end-bearing" pier.
A helical pile is a deep foundation pile that is screwed into the ground while monitoring the amount of pressure or torque it requires to advance.
The amount of torque can then be converted to confirm the load that the pile can hold. When the pile is completed the load from the structure is transferred to the bearing elements (helices) and distributed in a downward cone shape.
These are the two types of services we offer in regards to foundation lifting, helical piles, and push piers. When you reach out to us we will discover which option is best for you.
After much research and consideration, we partnered with Magnum Piering, the best piering company in the industry. What makes them so great is their team of engineers behind them, ensuring they have the best materials available.
They are ICC-ES Proven and ISO 9001 Certified.
They are a leader in the industry, and their products are top-rated, being built out of new structural steel rather than recycled oil pipes, as other companies use. When it comes to foundation lifting, you want the best materials for the job. For a great video that goes over their company, we recommend watching this presentation done by Steve Garlick. You can view their website here.
Who is Poly-Lift Piering?
Poly-Lift is pleased to announce our expansion into the foundation lifting industry.  As we've serviced our customer's concrete lifting and leveling needs, with our revolutionary DeepFoamejection method, we've noticed quite a few of our customers have foundation problems. For example, in the Bear Lake area, there are many houses up on the hill over there with unstable foundations.  As a result, we've decided to provide foundation lifting services, and Poly-Lift Piering was born!
Frequently Asked Questions about Foundation Repair
Foundation lifting jobs can usually be done in 1-2 days. Bigger jobs can take up to 5 days
Yes, you can continue to live in your home while the foundation is being repaired.
Yes if you are willing to spend the money to have it repaired
Push piers or Helical piers are the best method for lifting and repairing settled foundations
Cracks in exterior, doors and windows that don't shut properly, sloped floors, sunken landscape areas
Your Foundation Repair and Concrete Leveling Experts in Utah
Smithfield
North Logan
Hyrum
Providence
Nibley
Hyde Park
Wellsville
Richmond
Millville
What People Are Saying About Us Online
When homeowners start to notice signs of foundation damage, acting quickly is essential. Even small cracks and signs of shifting can lead to expensive repairs ...
Read More

→
It sounds alarming, but it's incredibly normal for any home to move a bit as it settles into the ground. Over time, the weight of ...
Read More

→
A strong foundation is essential for any structure, no matter the size. However, over time, the land supporting the building from below can change. For ...
Read More

→